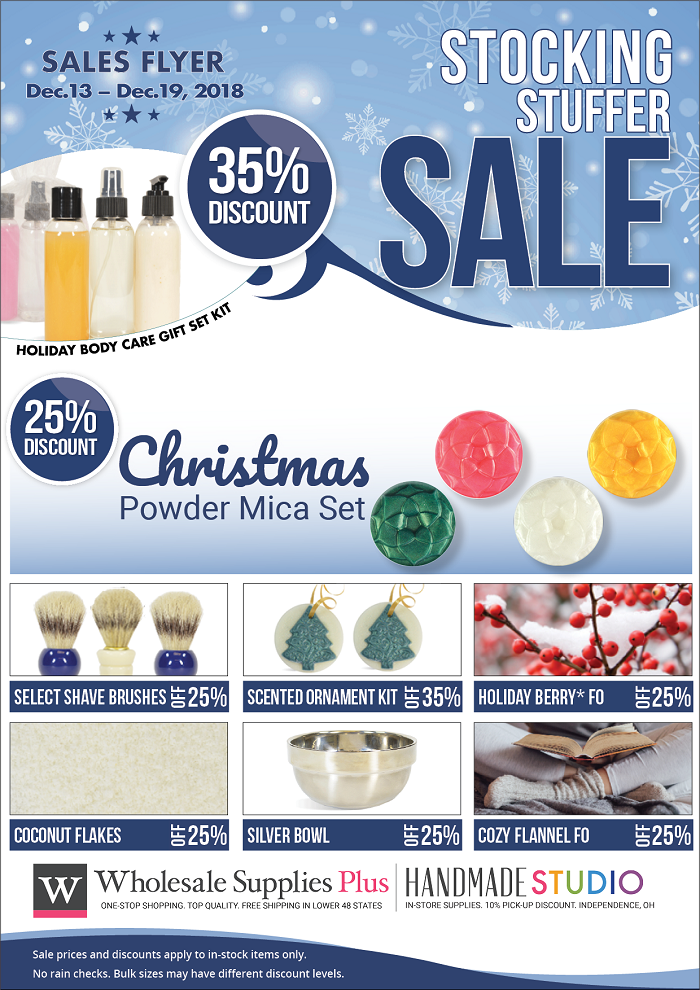 New Sales Flyer!

The December 13th - December 19th Sales Flyer is filled with amazing deals to help you save while shopping at Wholesale Supplies Plus! Deals include:

35% off - Holiday Body Care Gift Set Kit
35% off - Scented Evergreen Ornament Kit
25% off - Christmas Mica Powder Sample Set
25% off - Coconut Flakes
25% off - Cozy Flannel Fragrance Oil
25% off - Holiday Berry Fragrance Oil
25% off - Select Shaving Brushes
25% off - Silver Bowl





Flash Sales & News
Be the first to hear about upcoming sales & promotions!






Want More Coupons?
If you are a person that LOVES coupons, then we have opportunities for you to earn more ways to save!

Rate Your Products - Here
Show, Tell & Sell - Here





Reward Program
We reward loyal customers that choose to select us as their "one stop" shopping source. This program is designed to give back to customers that continue to return and buy from Wholesale Supplies Plus!

View Program Details

Special Coupon Codes:
WSP-FREESHIP - Free Shipping on All Orders over $25.