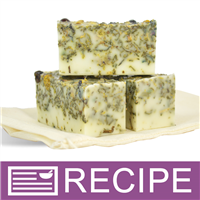 (Enlarge Image)
NOTE: If you are making these products for sale, good manufacturing practices recommend you wear a hairnet, gloves and a mask. We also recommend a clean apron and workspace.
Cut up and melt 10.50 oz. white soap in microwave in 30 second increments.
Add 0.50 oz. Bath Tea and mix into melted soap.
Pour soap into guest loaf mold. Spritz top with rubbing alcohol and let soap completely harden.
Remove soap from mold and cut into 1 inch slices.
Repeat recipe two more times to make sixteen additional bars.
Place each slice into a muslin drawstring bag.
Label accordingly.
TO USE: Place bag with soap under running water. Work up a lather and wash. Hang bag from hook or faucet to dry between uses.
Ingredient Label:
Sorbitol, Coconut Oil, Propylene Glycol, Stearic Acid, Water, Sodium Hydroxide, Glycerin, Titanium Dioxide, Rosemary Leaf, Spearmint Leaf, Rose Petals, Chamomile Buds, Juniper Berries.