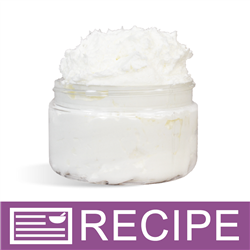 (Enlarge Image)
Note: When customizing, we recommend adding around 1% fragrance. If you want to add color, we recommend using mica powders. Avoid water-based additives, as they will separate.
Add 20.40 oz Shea Butter to a large, microwave safe bowl. Microwave for 30-60 seconds until slightly softened.
Using a hand or stand mixer, whip for 1-2 minutes until smooth and creamy.
Add 5.70 oz Coconut Oil and 2.70 oz Apricot Kernel Oil and mix. (If coconut oil is solid, place under hot running water until melted.)
Add 0.30 oz Vitamin E and mix.
If desired, add up to 1% (0.30 oz) Fragrance Oil and mix.
Add 0.60 oz Slick Fix and gently fold in with a spatula. Then continue to whip for 3-5 minutes until light and fluffy.
Fill jars with approximately 2.5 oz by weight.
Apply lids and label accordingly.
To Use:
Apply to skin as desired.
Ingredient Label:
Shea Butter, Coconut Oil, Apricot Kernel Oil, Tapioca, (Fragrance, if added), Vitamin E