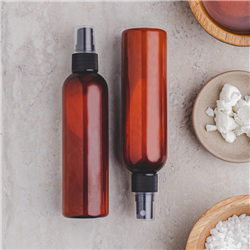 (Enlarge Image)
In a large, microwave-safe measuring cup combine 0.52 oz Shea Butter, 0.52 oz Jojoba Oil, and 0.26 oz Emulsifying Wax.
Microwave in 30 second increments until butter and wax are melted.
In a separate measuring cup, combine 10.92 oz Distilled Water, 0.13 oz Biotin Extract, and 0.26 oz Glycerin. Mix well.
Once butter and wax are melted, slowly add water mixture.
Using a stick blender, gently pulse until emulsified.
Add 0.13 oz Vitamin E, 0.13 oz Fragrance, and 0.13 oz Preservative. Blend to combine.
Fill bottles with approximately 3.25 oz by weight.
Allow product to cool completely before applying caps.
Once cooled, trim dip tubes and apply sprayers.
Label accordingly.
To Use:
Spray generously on wet, freshly washed hair. Gently comb through then style as usual. To refresh hair, spray on dry hair and work through with fingers or a comb. Style as usual.
Ingredient Label:
Water, Shea Butter, Jojoba Oil, Emulsifying Wax, Glycerin, Potassium (and) Sorbate Sodium Benzoate (and) Citric Acid (and) Biotin, Vitamin E, Fragrance, Propylene Glycol, Diazolidinyl Urea, Iodopropynyl Butylcarbamate