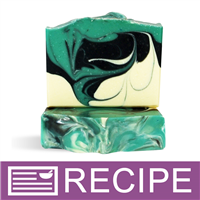 (Enlarge Image)
WARNING: This project and these instructions have been written for someone who has experience making soap and knows the potential dangers due to working with sodium hydroxide. It will not outline all safety methods of working with dangerous chemicals, it is simply a soap recipe for advanced soap makers.
Measure out water and lye in separate containers. Add lye to water and stir until dissolved. Apply lid to container and set aside in safe area to cool.
Melt your beeswax, oils and butters over low heat.
To plastic beaker, weigh out the essential oils.
Prepare your colorants: premix the titanium dioxide pigment with 2 teaspoons of the melted oil/butter mixture. In a second cup, premix 2 teaspoons of the melted oils with the emerald green mica powder. Repeat with the black mica powder in a third cup.
When the oil/butter mixture and lye-water are at around 100ºF-120ºF, slowly pour the lye-water into the oils. Stick blend to light trace.
Add the essential oil blend and hand stir into batter. Don't over stir; you want your soap to reach a light to medium trace.
Separate the soap by pouring the batter equally into 3 measuring cups.
Color all 3 cups by pouring each premixed color into a cup of soap batter, starting with white, then green and lastly black. Using the stick blender, stir each color briefly, starting with the white.
Pour the white batter into the mold. Using a spatula to catch the soap, pour the black over the white. Tap gently to even out. Finally, repeat with the green batter filling to the top.
Now is time to use your chopstick! In a circular motion, start swirling the soap from one end of the mold to the other!
Scrape the remaining green, black and white from the cups and drizzle on top. This recipe will overfill the mold so you can texture the top with a spoon or swirl it!
Cover the soap to insulate and let it set for 24 to 36 hours.
Carefully unmold the loaf and cut into 8 slices. Cure the bars for 4 to 6 weeks.
To Use: Lather onto wet skin and rinse with warm water. Avoid contact with eyes.
Ingredient Label:
Olive Fruit Oil, Coconut Oil, Palm Oil, Water, Sodium Hydroxide, Shea Butter, Sodium Lactate, Eucalyptus Essential Oil, Litsea Cubeba Essential Oil, Beeswax, Titanium Dioxide, Mica, Iron Oxides, Chromium Oxide Green.