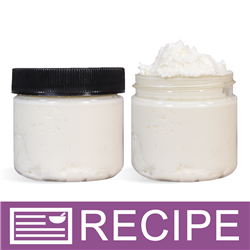 (Enlarge Image)
NOTE: If you are making these products for sale, good manufacturing practices recommend you wear a hairnet, gloves and a mask. We also recommend a clean apron, workspace and sanitized equipment.
Pre-Measure the Cera Belina Wax, Candelila Wax, Stearic Acid, BTMS-25, Jojoba Oil and Argan Oil in small ramekins. Combine all ingredients to a large microwave safe measuring cup (32 ounce).
Heat in a microwave for 2 minutes, if not melted, heat for another minute. Be careful when removing from the microwave, the glass will be hot.
Add Shea Butter and Slick Fix to oil mixture, stir until melted completely.
Measure the water into a small bowl and heat in the microwave for 2 minutes.
Add the heated water to the heated oils, mix together with a stick blender. If the mixture is not coming together, cool in the refridgerator for 20- 30 minutes.
Add the preservative and fragrance and blend.
When the mixture has thickened, spoon about 1.85 ounces into the jar and apply cap.
Label product accordingly.
To use: Work a small amount of pomade into towel-dried or dry hair. comb or style.
Ingredient Label:
Water, Cera Bellina, Candellila Wax, Jojoba Oil, Argan Oil, Shea Butter, Tapioca Starch, Stearic Acid, BTMS - 25, Phenoxyethanol, Caprylyl Glycol, Sorbic Acid, Fragrance.