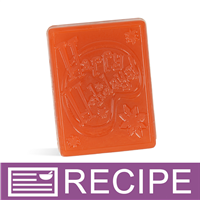 (Enlarge Image)
NOTE: If you are making these products for sale, good manufacturing practices recommend you wear a hairnet, gloves and a mask. We also recommend a clean apron.
In Mix and pour funnel pitcher (or glass measuring cup), add 14 oz. soap base and microwave in 30 second bursts until melted.
In beaker, mix 0.20 oz. glycerin and 2 micro scoops of red color with mini mixer.
To melted soap, add color and 0.40 oz. fragrance and mix well.
Pour into mold cavities and allow to harden.
Remove soap from molds and wrap in plastic wrap.
Repeat above steps to make second set of 3 soap bars.
Label accordingly.
Ingredient Label:
Sorbitol, Propylene Glycol, Sodium Laureth Sulfate, Stearic Acid, Water, Sodium Hydroxide, Myristic Acid, Sodium Cocoyl Isethionate, Glycerin, Fragrance, Red Iron Oxide.