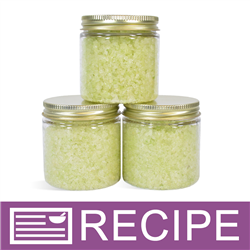 (Enlarge Image)
NOTE: If you are making these products for sale, good manufacturing practices recommend that you wear a hairnet, gloves and a mask. We also recommend a clean apron and workspace.
Add salt and baking soda to a large bowl and mix well.
In a small bowl mix polysorbate 80 and fragrance together.
Pour over salt mixture and whisk well.
Divide salt mixture evenly between two bowls.
To one bowl of salt, add hemp seed oil* and whisk. Add Martini Olive Mica and stir.
To the other bowl, add Super Sparkle Light Gold and whisk.
Combine both bowls of salt and mix.
Lay salts out on a cookie sheet to dry overnight.
Using a 1/4 measuring cup, scoop salt mixture into jars,
Place lids on jars when finished.
Label product accordingly.
* CBD oil can replace the hemp oil in this recipe.
To Use: Sprinkle desired amount of salts into bath. Relax and soak.
Ingredient Label:
Sea Salt, Hemp Seed Oil, Fragrance, Fluorphlogopite, Iron Oxide, Tin Oxide,Mica, Titanium Dioxide, Iron Oxide , Polysorbate 80.