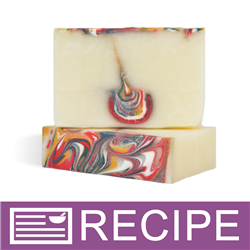 (Enlarge Image)
WARNING: This recipe has been written for someone who has experience making soap and knows the potential dangers due to working with sodium hydroxide. It will not outline all safety methods of working with dangerous chemicals, it is simply a soap recipe for advanced soap makers.
To pitcher, add water and then slowly add lye. Mix well until dissolved. Set aside to cool.
To metal pot, add olive oil, coconut oil, murumuru butter, sweet almond oil and castor oil. Heat on stove top until liquid. Set aside to cool.
To four small cups, add one color to each cup. Add one tablespoon of liquid oils to each and mix color well.
When lye solution and oils are 90ºF, pour sodium lactate into lye solution and mix.
Add lye solution to oils. Stick blend briefly to emulsify.
To color cups, add 1.50 oz. of batter to each cup. Mix well.
To two funnel pitchers, add 12 oz. of batter to each pitcher. Pour remaining batter into bottom of loaf mold.
Working quickly, pour green color slowly down the middle of the mold, lengthwise, back and forth once. (The color should sit on top and not break through.) Take red color and carefully pour on top of green. Continue pouring each color in this manner (green, red, gold, white) going back and forth with each color. Repeat colors six times and save excess soap for top.
Take two funnel pitchers and at the same time, pour batter along the sides of the mold. This will gently push the colors toward the middle and also push them down to create the tear drop.
Pour saved color soap on top in any desired pattern. Using a skewer, make an "S" design through the top, moving back and forth.
Let soap sit in mold for 24-48 hours.
Place loaf in freezer for 30 minutes and then carefully remove from mold and slice into bars.
Let cure for 4-6 weeks.
Package as desired and label accordingly.
To Use:
Lather with water onto skin. Rinse off. Avoid contact with eyes.
Ingredient Label:
Olive Oil, Water, Coconut Oil, Sodium Hydroxide, Murumuru Butter, Fragrance, Castor Oil, Sweet Almond, Sodium Lactate, Mica, Titanium Dioxide, Chromium Oxide Green, Fluorphlogopite, Tin Dioxide, Iron Oxide.