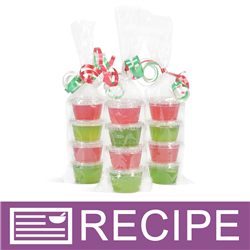 (Enlarge Image)
NOTE: If you are making these products for sale, good manufacturing practices recommend you wear a hairnet, gloves and a mask. We also recommend a clean apron and workspace.
Lay 16 small deli cups onto jelly roll pan.
To metal pot, add 6 oz. cold water and 0.50 oz. agar and stir well with wire whisk. Pour liquid through strainer into small bowl. Push clumps through strainer with spatula and mix well into water.
On low heat, bring water to slow boil and let simmer for 5 minutes. Stir often so mixture does not burn. Remove from heat.
Add 1 tsp. salt and stir to dissolve.
Add 4 oz. shower gel and gently blend in.
Add 5 drops Peppermint EO, red color, and 2.50 ml preservative and gently stir.
Pour into deli cups filling to just below the line.
Repeat above steps to make green color.
Place jelly roll pan into refrigerator for 2 hours. Remove and place lids on deli cups.
To each bag, package four cups, alternating red and green colors. Tie with coordinating curling ribbon.
Label product accordingly. Be sure to add "NOT EDIBLE" to your label.
NOTE: Take caution not to pour any leftover product down the drain. The agar can clog your drain. Shower shots may shrink slightly over time as water evaporates. For best results, we recommend using within 6 months.
To Use:
Remove one jelly soap from cup. Rub into washcloth or luffa and lather onto skin.
Ingredient Label:
Water, Sodium Laureth Sulfate, Sodium Lauryl Sulfate, Cocamide MEA, Agar, Cocamidopropyl Betaine, Methylparaben, Methylchloroisothiazolinone, Methylisothiazolinone, Citric Acid, Sodium Chloride, Spa Salt, Phenoxyethanol, Caprylyl Glycol, Sorbic Acid, Peppermint Essential Oil, Green 5, Yellow 5, Red 33, Red 40.