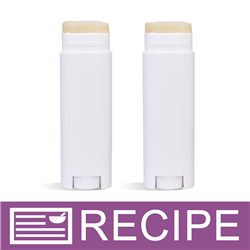 (Enlarge Image)
NOTE: If you are making these products for sale, good manufacturing practices recommend you wear a hairnet, gloves and a mask. We also recommend a clean apron and workspace.
To a microwave-safe measuring cup, add Cocoa Butter and Avocado Butter Blend.
Heat in microwave in 30 second intervals until the butters have melted.
To a small bowl, add sugar.
When butters have cooled to around 90°F, add in sugar and gently stir.
Add flavor oil and ten drop od EZ Color. Mix well.
Let mixture cool and thicken for about 5 minutes. This will help prevent sugar from settling to the bottom.
Stir mixture well then begin to pour into lip tubes. Be sure to stir before each pour to keep the sugar suspended in the product. Tap each tube on the counter after pouring to release any air bubbles. Let harden.
Remelt any remaining product and carefully add a few drops to the tubes to give them a nice rounded top or to fill in sink holes. Place in the refrigerator and let harden before applying caps.
Label product accordingly.
NOTE: Occasionally, the sugar can get stuck in the turning mechanism. After the lip scrub has hardened for about 30 minutes, gently turn the knob on the bottom to make sure it will move easily up and down. Do not push product up too much, you will not be able to push it back down into the lip tube.
TO USE:
Gently rub sugar scrub over lips to help remove dead skin. Rinse off with warm water and follow with a moisturizing lip balm.
Ingredient Label:
Sugar, Cocoa Butter, Avocado Butter, Fragrance, Castor Oil, Fluorphlogopite, Titanium Dioxide, Iron Oxide, Tin Oxide