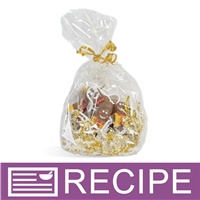 (Enlarge Image)
NOTE: If you are making these products for sale, good manufacturing practices recommend you wear a hairnet, gloves and a mask. We also recommend a clean apron and workspace.
Cut each color block in half and place each piece into a separate beaker. We recommend using one color at a time. After choosing your first color, melt in microwave in 5 second increments.
Spritz the soap mold cavity with rubbing alcohol and then using a plastic dropper, begin filling the detail with melted color bar. Spritz with rubbing alcohol to pop any bubbles.
Repeat with remaining colors until mold details are filled. If any soap spilled over you can use a toothpick, or a similar tool, to remove the excess soap.
Combine 0.50 oz. fragrance oil and 0.25 oz. stabilizer and allow to sit for 2 minutes.
Melt 16 oz. clear soap with ¼ brown sparkle color block. Stir. If darker color is desired, add another ¼ piece of color. When completely melted, add fragrance mixture.
When soap is 125ºF, thoroughly spritz each cavity with rubbing alcohol and then begin pouring brown soap. Each cavity should only be filled approximately ½ way to look like cookies.
If you have any leftover soap, pour it evenly between all cavities. Spritz with rubbing alcohol. Allow to harden completely and then unmold.
Repeat above steps to make additional soaps.
Package 2 large cookies and 1-2 small cookies in each cello bag with crinkled paper. Tie with ribbon.
Label product accordingly.
To Use:
Lather with water onto skin. Rinse off. Avoid contact with eyes.
Ingredient Label:
Sorbitol, Propylene Glycol, Sodium Laureth Sulfate, Stearic Acid, Lauric Acid, Water, Sodium Hydroxide, Glycerin, Sodium Cocoate, Sodium Stearate, Fragrance, Mica, Titanium Dioxide, Tin Oxide, Fluorphlogopite, Synthetic Fluorphlogopite, Iron Oxide