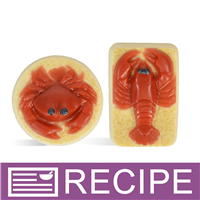 (Enlarge Image)
NOTE: If you are making these products for sale, good manufacturing practices recommend you wear a hairnet, gloves and a mask. We also recommend a clean apron and workspace.
To plastic beaker, add black color and melt in microwave.
Use a plastic dropper to drop color into each crab & lobster eyes.
To small measuring cup, add extra clear soap and melt in microwave until melted.
To plastic beaker, add glycerin and red powder and mix well with mini mixer. Add to melted soap and mix well.
Move some of red soap to plastic beaker. Spray the eyes with rubbing alcohol, and when the melted soap is 130ºF or cooler pour red soap into lobster and crab details. As red soap hardens, spray with rubbing alcohol and continue to pour more red soap until the crab and lobsters are filled. Allow red soap to harden.
To measuring cup, add oatmeal soap and heat until melted. Add fragrance and luffa powder and mix well. Allow soap to cool to 130ºF.
Spray red soap with rubbing alcohol and fill each mold cavity with oatmeal soap. Allow soap to harden and remove bars from molds.
Place soaps into shrink wrap bags and fold back bags and secure with tape. With a hair dryer, shrink the plastic. Add crinkle paper to cello bags and place soaps into each bag. Tie bags closed with raffia.
Label product accordingly.
To Use: Lather onto wet skin and rinse off with warm water.
Ingredient Label:
Sorbitol, Sodium Laureth Sulfate, Propylene Glycol, Stearic Acid, Myristic Acid, Water, Sodium Hydroxide, Oatmeal, Sodium Cocoyl Isethionate, Glycerin, Fragrance, Mica, Titanium Dioxide, Iron Oxide, Luffa