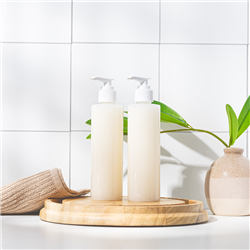 (Enlarge Image)
NOTE: If you are making these products for sale, good manufacturing practices recommend you wear a hairnet, gloves and a mask. We also recommend a clean apron, workspace and sanitized equipment.
In a large glass bowl or measuring cup, empty 32 oz. of Liquid Suspension Soap Base.
Add .9 oz. of Bubble Up and .45 oz. Bubble Wash Thickener to soap base.
In a small mixing bowl add fragrance to .45 oz. Safflower Oil and .45 oz. Polysorbate 80.
Add 0.25 oz.of Oatmeal Colloidal to fragrance mixture and mix with wire whisk until powder is well incorporated and free of clumps.
Stir in 0.16 oz. preservative and blend.
Add the fragrance and oil mixture to the soap base mix. Gently stir to incorporate ingredients.
Fill 4 bottles with 8.0 ounces by weight. Cut dip tubes to length and apply caps.
Label product accordingly.
Ingredient Label:
Water, Ammonium Lauryl Sulfate, Glycerin, Disodium Cocamido MIPA Sulfosuccinate, Cocamidopropyl Betaine, Propylene Glycol, Acrylates/C10-30 Alkyl Acrylate Crosspolymer, Disodium DMDM Hydantoin, Fragrance, PEG-150 Pentaerythrityl Tetrastearate, PEG-6 Caprylic/Capric Glycerides, Safflower Oil, Polysorbate 80, Oatmeal Colloidal, Phenoxyethanol, Benzoic Acid, Dehydroacetic Acid