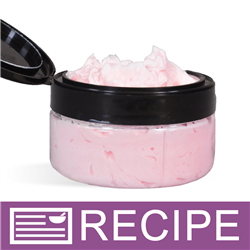 (Enlarge Image)
NOTE: If you are making these products for sale, good manufacturing practices recommend you wear a hairnet, gloves and a mask. We also recommend a clean apron, workspace and sanitized equipment.
Into a glass measuring cup, add contents of Silky Body Butter.
Pour 0.50 oz. Pink Pomelo & Himalayan Sea Salt FO into plastic beaker then add to body butter. Mix gently into the body butter using a spatula. Using a hand mixer, begin to whip the mixture.
Add 10 drops of Stained Glass Strawberry Red liquid color.
Add 0.25 oz Hemp Extract. Continue to whip to incorporate all the ingredients.
Fill each jar to 7.50 ounces by weight and apply lids.
Label product accordingly.
To Use:
Apply to skin as often as desired.
Ingredient Label:
Water, Isopropyl Myristate, Beeswax, Stearic Acid, Cetearyl Alcohol, Sunflower Oil, Polysorbate 60, Sodium Borate, Disodium EDTA, Fragrance, Hemp Seed Extract, Red 33.