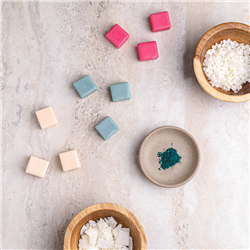 (Enlarge Image)
NOTE: If you are making these products for sale, good manufacturing practices recommend you wear a hairnet, gloves and a mask. We also recommend a clean apron and workspace.
Add 7.5 oz. of palm kernel flakes to metal pot and heat on stovetop until melted. When completed melted add 7.5 oz. of beeswax and stir until melted.
Allow mixture to cool until 145°F, and then add 1.7 oz. (50 ml) of fragrance oil and 3 scoops of green mica powder while continually stirring.
Fill 6 clamshells to about 1/8 inch under brim. Allow wax melts to harden completely
To Use:
Add 1-2 wax melts to wax tart warmer.
Note:
In order to acheive different wax melt shades, use or mix other mica colorings
Ingredient Label:
Beeswax, Palm Kernel Oil, Fragrance, Mica, Titanium Dioxide, Chromium Oxide Green