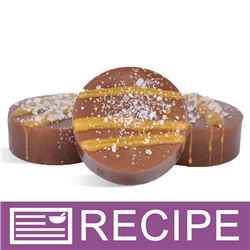 (Enlarge Image)
NOTE: If you are making these products for sale, good manufacturing practices recommend you wear a hairnet, gloves and a mask. We also recommend a clean apron and workspace.
To large measuring cup, add 9.6 oz. cut up Premium Extra Clear soap and heat in microwave until completely melted.
Add a sliver of gingerbread brown soap color bar, and a smaller sliver of matte americana red soap color bar to melted soap, stir until blended.
Place soap mold on jelly roll pan and set aside.
Add 0.25 oz. Fragrance to melted soap and mix.
Pour soap into mold cavities and spritz with rubbing alcohol. Allow soap to harden completely and then remove from molds.
Repeat steps 1 through 5 two more times to make remaining soaps.
To a plastic beaker, add remaining clear soap. Heat in microwave in 15 second intervals until melted.
Add a micro scoop of shimmer dark gold mica and stir well.
Cover either a counter top or a cookie sheet with waxed paper. Place cookies on top of waxed paper.
Drizzle color over each cookie. If soap seems too thin when poured, let soap cool slightly and thicken to make pouring easier. Do about 4 cookies at a time, so you can sprinkle the salt and it will set into the gold soap.
Sprinkle coarse spa salt over gold mica color soap.
Package 3 bars of soap in a Cello Bag and tie with Raffia.
Label accordingly.
To Use: Lather onto wet skin.
Ingredient Label:
Sorbitol, Propylene Glycol, Sodium Laureth Sulfate, Stearic Acid, Myristic Acid, Water, Sodium Hydroxide, Sodium Cocoyl Isethionate, Fragrance, Sorbitol, Sodium Cocoate, Propylene Glycol , Sodium Stearate, Water, Glycerin, Mica, Titanium Dioxide, Iron Oxide, Sea Salt.