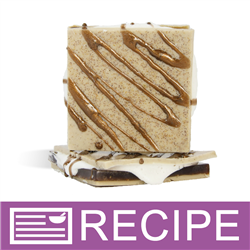 (Enlarge Image)
NOTE: If you are making these products for sale, good manufacturing practices recommend you wear a hairnet, gloves and a mask. We also recommend a clean apron and workspace.
To measuring cup, add cut up oatmeal soap. Heat in microwave until melted.
In plastic beaker, mix 3 ml fragrance oil with 1.50 ml stabilizer. Let sit for at least 2 minutes.
To oatmeal soap, add apricot seed powder, 1 micro scoop brown mica powder and fragrance mixture. Stir well.
Pour 0.50 oz. of melted soap into each square cavity of the soap mold. Spritz top of soap with rubbing alcohol and let harden. Set remaining soap aside.
Remove soap from mold and set on cookie sheet. Cover with plastic wrap and set aside.
Reheat leftover oatmeal soap from above and stir well. Pour another 0.50 oz. of soap into each mold cavity and let harden. Remove and set aside. (These are the top and bottom graham crackers.)
To measuring cup, add 6.50 oz. cut up clear soap. Heat in microwave until melted. Add cocoa powder and mix well with whisk.
Pour 1 oz. soap into each cavity. Spritz with alcohol and let harden.
Remove soap from mold and then stack the soap in three piles; top, bottom and chocolate.
In beaker, melt 1.50 oz. clear soap base. (This is the "glue" to hold the pieces together.)
Spritz bottom soap cracker and one side of chocolate soap with alcohol. Pour enough clear soap to almost cover the cracker, then place chocolate soap on top. Hold for a few seconds until it sets.
Repeat with remaining five soaps.
In beaker, mix 0.50 oz. fragrance oil and 0.25 oz. stabilizer. Let sit for 2 minutes.
To mixing bowl, add cut up white soap. Heat in microwave until completely melted.
Add Foaming Bath Whip and gently stir. With hand mixer on low, whip ingredients. Mixture will bubble and foam, that is normal. Continue to whip until soap starts to thicken to a marshmallow consistency.
Spritz the top of one chocolate soap with alcohol and spoon "marshmallow filling" onto the "chocolate." If it seems too thin and runs off the side, continue to mix for another minute or so until thicker.
Spritz each chocolate soap and the inside of the top graham cracker soap and gently press
together with marshmallow filling. Add enough filling so it starts to push out the side.
Reheat the "glue" from Step 10. Add 3 micro scoops of brown mica powder and stir well.
When brown soap has thickened slightly, drizzle "chocolate" over each s'more soap.
Let soaps completely harden then wrap in plastic wrap.
Label product accordingly. Be sure to add "DO NOT EAT" to the label.
To Use: Lather onto wet skin and rinse with warm water.
NOTE: Any leftover marshmallow filling can be stored in an airtight container for future use.
Ingredient Label:
Sorbitol, Sodium Laureth Sulfate, Propylene Glycol, Stearic Acid, Myristic Acid, Water, Sodium Hydroxide, Sodium Cocoyl Isethionate, Oatmeal, Disodium Lauryl Sulfosuccinate, Titanium Dioxide, Fragrance, Apricot Seed, Cocoa Powder, Sodium Chloride, Diazolidinyl Urea, Iodopropynyl Butylcarbamate.