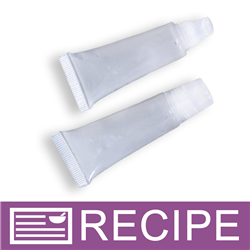 (Enlarge Image)
NOTE: If you are making these products for sale, good manufacturing practices recommend you wear a hairnet, gloves and a mask. We also recommend a clean apron, workspace and sanitized equipment.
Measure 4 ounces of room temperature coconut oil into a measuring cup.
Add 4 ounces of baking soda and combine with a spoon or hard spatula.
Add 1/2 to 1 micro scoop of activated charcoal (optional) and 2-3 ml of peppermint flavor oil, stir well.
Fill the syringe with the toothpaste and squeeze into the tubes. Attach the reducer tip and then cap.
Label product accordingly.
To Use: Apply a small amount to toothbrush and brush your teeth.
Note: Turmeric powder is not included, but can be substituted for the activated charcoal.
Ingredient Label:
Coconut Oil, Baking Soda, Flavor Oil, Activated Charcoal.