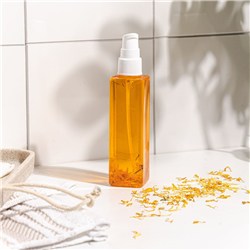 (Enlarge Image)
NOTE: If you are making these products for sale, good manufacturing practices recommend you wear a hairnet, gloves and a mask. We also recommend a clean apron and workspace.
Into glass measuring cup, add 4 oz. of Castor Oil, 4 oz. of Sweet Almond Oil, 4.5 oz. of Rice Bran Oil, 2 oz. of Cucumber Seed Oil, and 1.5 oz. Carrot Seed Oil. Mix well with a spoon or spatula.
Trim dip tubes on pump tops to the appropriate length for the bottles and set aside.
Add a pinch of calendula petals to each bottle.
Fill each bottle to 4 oz. by weight. Wipe any excess oils from the outside and then place tops on bottles.
Label accordingly.
To Use:
Pour a quarter dollop onto palm and massgae into skin for 20 minutes. PLace a warm damp towel over face for 1-2 minutes and then use that towell to wipe away oil and dirt. Continue with face care routine.
Warning:
Keep out of eyes. Do not ingest.
Ingredient Label:
Castor Oil, Rice Bran Oil, Sweet Almond Oil, Cucumber Seed Oil, Carrot Seed Oil, Calendula Petals.