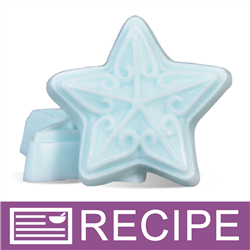 (Enlarge Image)
NOTE: If you are making these products for sale, good manufacturing practices recommend you wear a hairnet, gloves and a mask. We also recommend a clean apron.
To a microwave-safe measuring cup, add 8.5oz. of cut up soap. Heat in microwave in 30 second micrements until soap has melted.
Using the plastic dropper to measure, add .25 ounces of Jack Frost Fragrance Oil to the melted soap.
Stir the soap with a spatula until the fragrance is well incorporated.
Add 3 drops of Stained Glass Ocean Blue to soap and stir.
Sprinkle glitter into each cavity of the soap mold.
Pour the soap into each mold cavity of the Star Soap Mold.
Spray the top of the soap with rubbing alcohol to pop any surface bubbles.
Allow the soap to fully harden.
Unmold wrap star in plastic wrap and place in organza bag.
Label product acordingly.
To Use: Lather onto wet skin and rinse with warm water.
Ingredient Label:
Sorbitol, Propylene Glycol, Sodium Laureth Sulfate, Stearic Acid, Myristic Acid, Water, Sodium Hydroxide, Sodium Cocoyl Isethionate, Titanium Dioxide, Fragrance, Tetrasodium Methylparaben, Propylparaben, Blue 1.