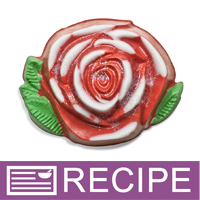 (Enlarge Image)
NOTE: If you are making these products for sale, good manufacturing practices recommend you wear a hairnet, gloves and a mask. We also recommend a clean apron and workspace.
To a plastic beaker, add 2 oz. of cut up white soap. Add a sliver of the green color bar or until desired shade is achieved.
Place in microwave and heat about 20 seconds or until soap and color have melted.
Using a plastic dropper, pipe the colored soap into the leaf cavities for all 10 roses. Start with the middle cavity so the mold does not tip over. If the soap starts to harden, place back in microwave for a few seconds to get back to a liquid state.
To keep soap from hardening in the dropper, place in hot water and squeeze up into dropper until ready to use again.
Spritz soap with rubbing alcohol after piping into mold.
To a microwave-safe measuring cup, add 8 oz. of cut up white soap. Heat in microwave in short bursts until melted. Use the plastic droppers to fill in the edges of the petals.
To another microwave-safe measuring cup, add 8 oz. of cut up clear soap. Heat in microwave until melted.
Add a sliver of the red color bar. Mix until color is incorporated. If necessary, heat briefly in microwave until color is completely melted. Add more color as desired.
Mix colored soap with remaining melted white soap from Step 6. This will brighten up the matte red color.
Add 0.50 oz. of the Wild Rose Fragrance Oil. Blend into melted soap base.
Check that the soap temperature is at or below 125°. Spritz inside of soap cavities generously with rubbing alcohol then pour soap into mold. Spritz, again, to remove any air bubbles.
Once soap has set for about 10 minutes, place in freezer for 45 minutes to help with unmolding. Remove and unmold soap.
If desired, sprinkle a little bit of Iridescent Sparkle Glitter over the top of each rose.
Carefully wrap each soap in clear plastic wrap and place in a white organza bag.
Repeat above steps to make second set of 10 soaps.
Label product accordingly.
To Use: Lather onto wet skin and rinse with warm water.
Ingredient Label:
Sorbitol, Propylene Glycol, Sodium Laureth Sulfate, Stearic Acid, Myristic Acid, Water, Sodium Hydroxide, Sodium Cocoyl Isethionate, Titanium Dioxide, Fragrance, Iron Oxides, Chromium Oxide.