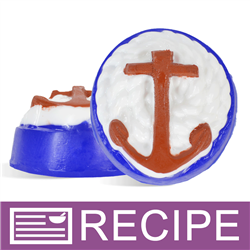 (Enlarge Image)
If you are making these products for sale, good manufacturing practices recommend you wear a hairnet, gloves and a mask. We also recommend a clean apron and workspace.
To a plastic beaker, add 2 oz. of cut up clear soap.
Cut the red color bar into 4 pieces and add one piece to the clear soap chunks.
Place beaker in microwave and heat in 10 second intervals until soap and color have melted.
Using a dropper, carefully pipe colored soap into the anchor. The mold may need to be propped on one side to fill the bottom of anchor and then the rest can be filled in. Place dropper in cup of hot water to keep it free flowing between uses.
When soap has hardened, spritz soap with alcohol. Prop mold so the remaining areas can be filled and pipe red soap into the rest of the anchor. If red soap in beaker has hardened, heat slightly in microwave.
Once soap has hardened, turn mold over to see if any soap went out of the anchor outline. If so, take a toothpick or a wooden shisk-ka-bob skewer and carefully remove excess soap from around the anchor.
Place plastic mold in freezer for about 10 minutes. This will get soap ready for the second pour.
While soap is in freezer, weigh 6.5 oz. of white soap and cut up into chunks. Place in glass measuring cup and heat in microwave until melted.
Add 6 ml of Seaside Escape fragrance oil and gently mix in.
Remove mold from freezer and set on counter. Spritz red soap well with alcohol.
Check that the temperature of the soap is no higher than 125°F. Divide soap between the three cavities. Spritz tops with alcohol. Let soap completely harden. Once soap starts to thicken, it can be placed in freezer to speed up the process.
To a microwave-safe measuring cup, add 6 oz. of cut up clear soap. Add one-fourth of cobalt blue color bar. Heat in microwave until melted.
Remove and stir to be sure blue color has completely dissolved. Add 6 ml of fragrance oil and mix well.
Spritz top of white soap well with alcohol. Checking that soap temperature is at or below 125°F, . pour soap into mold cavities. Spritz with alcohol to dissolve any air bubbles.
After soap sits for about 10 minutes, place in freezer for about 45 minutes.
Once mold is removed from freezer, place mold upside down on counter and let sit at room temperature for about 10 minutes. Carefully push on cavity to release soap.
If any bleeding has occurred in the white area, this can be gently scraped off with a toothpick or wooden skewer.
Repeat above steps to make second set of three soaps.
Wrap soaps in airtight packaging.
Label product accordingly.
To Use: Lather onto wet skin and rinse with warm water. :
Ingredient Label:
Sorbitol, Propylene Glycol, Sodium Laureth Sulfate, Stearic Acid, Myristic Acid, Water, Sodium Hydroxide, Sodium Cocoyl Isethionate, Titanium Dioxide, Fragrance, Ultramarines, Iron Oxides