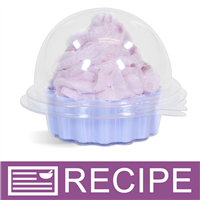 (Enlarge Image)
NOTE: If you are making these products for sale, good manufacturing practices recommend you wear a hairnet, gloves and a mask. We also recommend a clean apron and workspace.
CUPCAKE:
Weigh 24 oz. of Ultra White MP Soap Base and cut up into smaller chunks. Place into large microwave-safe measuring cup.
Add 0.10 oz. Matte Cobalt Blue color bar and 0.15 oz. Matte Lavender color bar to soap.
Place container in microwave and heat until the soap and color bars are melted. Stir to blend in colors.
In a plastic beaker, mix 0.25 oz. of Vanilla Color Stabilizer and 0.50 oz. of Blue Agave Sugar Fragrance Oil. Let sit for 2 minutes then add mixture to the melted soap.
Once soap temperature has cooled to 125-130ºF, pour soap into each clamshell. Spritz soap with rubbing alcohol when finished to pop any surface bubbles. Let harden.
Once soap has completely hardened, gently remove soap from mold. Then place back into the cupcake mold. This will make it easier to remove the cupcake once the frosting has been added.
Repeat above steps to make second set of soap cupcakes.
FROSTING:
To a large microwave-safe bowl, add 16 oz. of cut up white soap. Heat in microwave until melted.
Add the 1 lb. jar of Foaming Bath Whip to melted soap and gently stir in. Bath whip will not completely melt but will soften and break up into smaller pieces.
To a second microwave-safe container, add 2 oz. of Glycerin and 3 oz. of Myristyl Myristate. Heat in microwave until flakes have completely melted. Caution: Container will be hot!
In plastic beaker, mix 1 oz. of fragrance oil with 0.50 oz. of vanilla stabilizer and allow to sit for at least 2 minutes.
Using a hand mixer, start mixing soap using low speed. Mix just until soap is smooth and not clumpy. Slowly add melted wax/glycerin to bowl while mixing.
Continue to whip until frosting is a nice whipped consistency.
To the modified fragrance, stir in 3/4 teaspoon of pink mica powder. Slowly add fragrance mixture to frosting and whip until product thickens. If soap seems too thin to pipe, place in refrigerator to cool and thicken - about 15 minutes.
Using a pastry bag or Decorator Pro, fill with the pink frosting.
Add your choice of decorating tip and pipe frosting onto cupcakes. Be sure not to pipe too high so the clamshell lid can close. Should frosting harden, heat briefly in microwave and rewhip.
Finish by dusting with Iridescent Super Sparkle Glitter.
Let product sit for about 24 hours to completely harden. Package in clamshells and close lids.
Label product accordingly.
NOTE: Unused soap frosting can be kept in airtight container. When ready to use, warm slightly in microwave and whip with hand mixer to desired consistency.
To Use: Lather soap onto wet skin and rinse with warm water.
Ingredient Label:
CUPCAKE: Sorbitol, Propylene Glycol, Sodium Laureth Sulfate, Sodium Stearate, Sodium Myristate, Sodium Cocoyl Isethionate, Titanium Dioxide, Ultramarines. FROSTING: Sorbitol, Propylene Glycol, Glycerin, Water, Sodium Laureth Sulfate, Sodium Cocoyl Isethionate, Stearic Acid, Lauric Acid, Sodium Hydroxide, Myristyl Myristate, Sodium Chloride, Fragrance, Titanium Dioxide, Diazolidinyl Urea, Iodopropynyl Butylcarbamate, Mica, Iron Oxide, Silica.