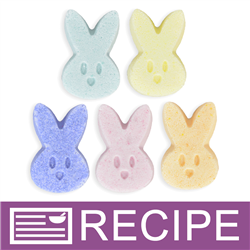 (Enlarge Image)
NOTE: If you are making these products for sale, good manufacturing practices recommend you wear a hairnet, gloves and a mask. We also recommend a clean apron and workspace.
To mixing bowl, add 7 oz. Baking Soda, 3.50 oz. Citric Acid, 0.50 oz. Arrowroot Powder. Mix ingredients with wire whisk.
To a plastic beaker, mix 0.10 oz. fragrance with 0.10 oz. vanilla stabilizer. Let sit for 2 minutes.
To a second beaker, add 0.20 oz. Shea 50.
Add fragrance mixer to powders and quickly blend in to stop fizzing.
Add Shea 50, being sure to scrape sides of beaker with spatula. Mix well with whisk or gloved hands.
Add desired amount of first color and mix well. Be sure all color is well incorporated. To create a green shade, we recommend using 2 micro scoops yellow with 1 micro scoop blue. Add more color as desired.
Place silicone mold on cookie sheet. Fill each cavity with mixture being sure to gently push mixture down to pack firmly. Overpacking, though, will cause the sides to push out and give the bunny a distorted look.
Let harden for about 2 hours. Remove and set aside.
Repeat above steps with second color and continue until all 5 colors (blue, yellow, orange, pink and green) are made and there are 60 bath fizzies total.
Package as desired. We found bags for packaging chocolate covered pretzel rods work very well for these bath fizzies.
Label product accordingly.
To Use: Add one bath bomb to warm bath water and watch it fizz and foam.
Ingredient Label:
Baking Soda, Citric Acid, Arrowroot Powder, PEG-50 Shea Butter, Fragrance, Yellow 5 Lake, Blue 1 Lake, Yellow 6 Lake, Red 40 Lake.