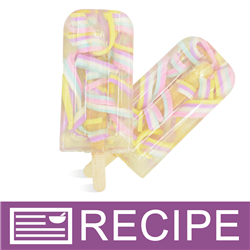 (Enlarge Image)
NOTE: If you are making these products for sale, good manufacturing practices recommend you wear a hairnet, gloves and a mask. We also recommend a clean apron and workspace.
Soap Swirls:
To four plastic beakers, add 2 oz. of cut up white soap to each.
To one beaker, add 0.10 oz. yellow color block. Heat in microwave in short spurts until melted.
Add 1/2 tsp. glycerin to melted soap and stir to incorporate all ingredients.
Pour soap into the bottom of silicone loaf mold. Spritz with alcohol and let harden.
When soap has hardened, melt another 2 oz. of white soap adding 0.10 oz. purple color block. Stir in 1/2 tsp. glycerin to mixture.
Spritz yellow soap generously with rubbing alcohol. When soap temperature is at or below 125° F, pour purple over yellow layer. Spritz again. Let harden.
Melt 2 oz. of white soap. Do not add color. Add 1/2 teaspoon of glycerin and blend in.
Spritz purple layer generously with alcohol. Pour white over purple layer when temperature is at 125° F. Spritz again.
Follow above steps with blue and pink colors. Be sure to spritz well between each layer.
When soap has completely hardened, remove from mold.
Using a soap cutter, slice or shave very thin layers of the soap. Taking one slice, wrap around a pencil to create a corkscrew. If soap separates, continue to make curls. It will not affect the look of the soaps. Continue until you have 36 corkscrews.
Place soap pop mold on cookie sheet for stability. Spritz curled soaps with alcohol. Place 3 corkscrews into bottom of first cavity using a pencil to position them. Put another 6 corkscrews on top of the first. Continue until all cavities are filled.
To large microwave-safe measuring cup, add 20 oz. of cut up clear soap. Heat in microwave until melted.
In plastic beaker, add 0.70 oz. of fragrance oil and 0.35 oz. of Vanilla Color Stabilizer. Mix well and let sit for 2 minutes. Add to melted soap and stir.
When soap has cooled to around 125-130°F, carefully pour soap into each cavity. Gently tap mold on counter while pouring to lessen air pockets. You can use a pencil to gently move curls away from sides so the soap completely surrounds the embeds. Spritz tops with alcohol when finished.
Place top of soap pop mold over soaps and insert sticks. Let soap harden.
Remove from mold by gently pulling the sides away from the soap and pushing from the bottom to ease soap out of mold. Be sure not to pull on the stick.
To package, place each soap in cello bag and tie with ribbon. If desired, soap can be wrapped in plastic wrap before placing into bags.
Label accordingly. Be sure to add to label "DO NOT EAT. REMOVE STICK BEFORE USING".
To Use: Lather onto wet skin and rinse off with warm water.
Ingredient Label:
Sorbitol, Propylene Glycol, Sodium Laureth Sulfate, Stearic Acid, Myristic Acid, Water, Sodium Hydroxide, Sodium Cocoyl Isethionate, Titanium Dioxide, Fragrance, Glycerin, Red 28, Red 22, Violet 2 EXT, Blue 1, Iron Oxides.