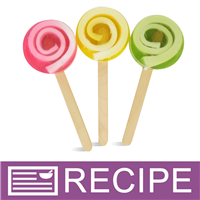 (Enlarge Image)
NOTE: If you are making these products for sale, good manufacturing practices recommend you wear a hairnet, gloves and a mask. We also recommend a clean apron and workspace.
In measuring cup, add 2 oz. of cut up White Soap and heat in microwave until melted.
Add 0.20 oz. Glycerin to soap and pour into Guest Loaf Mold. Spritz top with rubbing alcohol and allow to harden.
Remove soap from the mold. Using a straight soap cutter, slice the soap into 3 long strips.
Roll the strips into swirls and set aside.
Repeat steps 1-4 five times to make remaining swirls (18 total).
To measuring cup, add 5.50 oz. cut up Clear Soap and 0.05 oz. of one color block. Heat in microwave until melted.
Mix 4 ml Fragrance Oil and 2 ml Stabilizer in plastic beaker. Allow to sit for 2 minutes and then add to melted soap.
When the colored soap reaches a temperature of 125-130° F, fill each round silicone guest mold cavity approximately half full. Spritz with rubbing alcohol.
Spritz the soap swirls with rubbing alcohol and set into the colored soap. Fill each cavity to the top with the colored soap and spritz again.
Allow the soap to completely harden, then remove from mold.
Repeat steps 6-10 two times to make remaining colors.
Gently push popsicle stick into each bar and wrap in plastic wrap.
Label accordingly.
WARNING: Do not eat. for external use only.

To Use:
Lather onto wet skin. Rinse off with warm water.
Ingredient Label:
Sorbitol, Propylene Glycol, Sodium Laureth Sulfate, Stearic Acid, Myristic Acid, Water, Sodium Hydroxide, Sodium Cocoyl Isethionate, Titanium Dioxide, Glycerin, Fragrance, Sodium Stearate, Sodium Myristate, Yellow 5, Green 5, Red 33, Red 40.