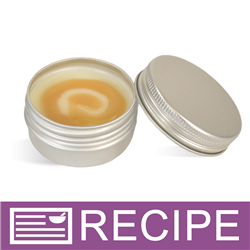 (Enlarge Image)
NOTE: If you are making these products for sale, good manufacturing practices recommend you wear a hairnet, gloves and a mask. We also recommend a clean apron and workspace.
To funnel pitcher, add Lip Balm Base for Sticks.
To plastic beaker, add Lip Balm Base for Pots.
Place funnel pitcher in microwave and heat until base has completely melted.
Add 3.5 ml flavor oil and 2 scoops white mica powder and stir.
Fill each tin to 0.45 oz. by weight.
Place plastic beaker in microwave and heat base until melted. Add .5 ml flavor oil and stir.
Add ½ scoop of both Caramel Brown and Gingerbread Brown mica powder and stir well.
When lip balm in tins start to thicken, drizzle a little color on top in whatever pattern you desire. Warm slightly if the colored base thickens.
Set them all aside to harden, then screw on lids.
Label product accordingly.
To Use: Apply to lips as needed.
Ingredient Label:
Castor Oil, Olive Oil, Beeswax, Carnauba Wax, Soybean Oil, Candelilla Wax, Flavor, Fluorphlogopite, Titanium Dioxide, Tin Oxide, Mica, Iron Oxide