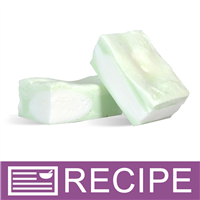 (Enlarge Image)
NOTE: If you are making these products for sale, good manufacturing practices recommend you wear a hairnet, gloves and a mask. We also recommend a clean apron.
Weigh 24 oz. of Ultra White MP Soap Base and cut up into smaller chunks. Place in microwave and heat until the soap has melted.
Add 4.5 oz. of Crystal Clear Shower Gel.
In a plastic beaker, add the Mint Chocolate Chip Fragrance Oil and Vanilla Color Stabilizer. Mix well and let sit for 2 minutes.
Add this fragrance mixture to the melted soap and stir to incorporate well.
Separate soap equally into 2 large bowls (14.25 oz. each).
To one bowl, add 15 drops of the Forest Green Liquid Color and mix well.
Using the hand mixer (with whisk attachment if available), start to whip on medium speed. Work quickly as this will whip up very fast and begin to harden as it cools. The whisk attachment will help to add air into the soap to make it fluffier.
Once the soap starts to thicken, pour half of the green whipped soap into the plastic tray mold.
Start whipping the white soap in the second bowl in the same manner. Pour this soap over the first layer of green in random areas.
Pour the remaining green soap over the top and smooth it out. Allow soap to harden (putting in the freezer will help set up more quickly).
Unmold and cut along the perforations in the soap. Cut each rectangle into 4 pieces.
Let soap set out on a cookie sheet to harden overnight.
Package 4 pieces in a cello bag and tie with raffia.
Label product accordingly.
To Use: Lather onto wet skin and rinse with warm water.
Ingredient Label:
Sorbitol, Propylene Glycol, Water, Sodium Laureth Sulfate, Stearic Acid, Myristic Acid, Sodium Lauryl Sulfate, Cocamide MEA, Cocamidopropyl Betaine, Sodium Hydroxide, Sodium Cocoyl Isethionate, , Methylparaben, Methylchloroisothiazolinone, Methylisothiazolinone, Citric Acid, Sodium Chloride, Titanium Dioxide, Green 5, Yellow 5.