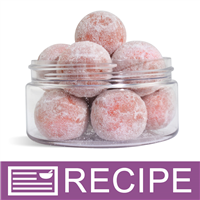 (Enlarge Image)
NOTE: If you are making these products for sale, good manufacturing practices recommend you wear a hairnet, gloves and a mask. We also recommend a clean apron and workspace.
Place 2 silicone molds on a cookie sheet and set aside.
To a heat-safe pan, add shea butter and heat on stove over low heat.
To a microwave-safe measuring cup, add cut up clear soap base. Heat in microwave until fully melted.
Once the shea butter is completely melted, remove from the heat and stir in the melted soap base.
Stir in 1 oz. sweet almond oil and 0.65 oz. Frosted Cranberry Fragrance Oil into the melted shea butter and clear soap base. If ingredients begin to solidify, place back on heat source to remelt.
Add 16 oz. of granulated sugar to a bowl. Break up any clumps with your gloved hands. Pour the melted ingredients into the bowl of sugar. Stir to fully incorporate.
Add 1 teaspoon of red mica powder to the mixture and blend well. Use gloved hands to mix the ingredients well.
Fill each round cavity with mixture pressing down firmly to be sure the mixture is packed tightly. Place molds in the freezer and allow to completely set up (about 1 hour).
Once the cranberries have set up, turn the mold over and carefully push each sugar scrub out of mold. They will feel a bit sticky.
Add 2 oz. of sugar to a bowl and roll the cranberries in the sugar until completely coated. Set aside to dry.
To package, place 6 cranberries in each 8 oz. jar. One jar will have only 5 scrubs.
Label product accordingly.
TO USE: Moisten the scrub with a little warm water and use to soften rough skin or use over entire body.
Ingredient Label:
Sugar, Shea Butter, Propylene Glycol, Sorbitol, Water, Sodium Stearate, Sodium Laureth Sulfate, Sodium Myristate, Sodium Cocoyl Isethionate, Triethanolamine, Glycerin, Sweet Almond Oil, Fragrance, Fluorphlogopite, Iron Oxides.