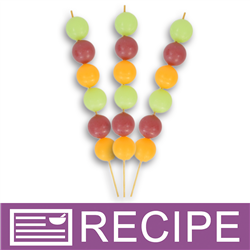 (Enlarge Image)
NOTE: If you are making these products for sale, good manufacturing practices recommend you wear a hairnet, gloves and a mask. We also recommend a clean apron and a covered work area.
To a funnel pitcher, add 10.50 oz. clear cut up soap and 0.25 oz. white soap.
Heat in microwave until melted.
Add strawberry red liquid color and Sweet Strawberry fragrance oil and mix.
Pour soap into each mold cavity, then spritz with rubbing alcohol. Allow soap to harden and then remove soaps from mold. Set aside.
Wash mold and funnel pitcher for use with next color/fragrance.
Repeat steps 1-2 and melt more soap for mango soaps.
In plastic beaker, mix Mango Tango Twist fragrance oil and Vanilla Color Stabilizer. Let sit for 2 minutes then mix into melted soap along with orange liquid color.
Repeat steps 6-7 with orange soap,
Repeat step 1-2 and step 5 and add Melon Ball fragrance oil and green liquid color to melted soap.
Pour into mold and let harden. Unmold and separate soaps by color.
Using wood dowels, place two of each colored soap onto the sticks. We ran the stick just below the middle of the ball and put the flat side to the back.
Package each fruit kabob in a poly bag and tie with raffia. If desired, fruit kabobs can be packaged in a small plastic bowl or jar and labeled as a fruit bowl.
Label accordingly.
TO USE: Lather onto wet skin and rinse off with warm water.
Ingredient Label:
Sorbitol, Propylene Glycol, Sodium Laureth Sulfate, Stearic Acid, Myristic Acid, Water, Sodium Hydroxide, Fragrance, Sodium Cocoyl Isethionate, Titanium Dioxide, Orange 4, Green 5, Yellow 5, Red 33.