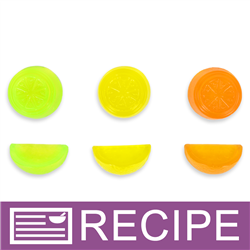 (Enlarge Image)
NOTE: If you are making these products for sale, good manufacturing practices recommend you wear a hairnet, gloves and a mask. We also recommend a clean apron, workspace and sanitized equipment.
Place both plastic molds on separate cookie sheets.
To a microwave-safe measuring cup, add 9 oz. cut up clear soap. Place in microwave and heat in 30 second bursts until melted.
Add 5-6 drops of Stained Glass Lemon Yellow liquid color or until desired shade is reached.
Add 0.25 oz. Freshly Zested Lemon fragrance and stir.
Pour soap into cavities on both molds filling to the top,
Spritz tops with rubbing alcohol to break up any air bubbles. Let soap harden.
We recommend placing molds in freezer for 30-45 minutes to help with unmolding. Once molds are removed, place on counter for a few minutes to warm up. Soaps should easily release from mold.
Repeat above steps to make orange and lime soaps.
Mix 0.25 oz. of remaining two fragrance oils with 0.125 oz. vanilla stabilizer. Let sit for 2 minutes before adding to melted soap.
Use the Stained Glass Citrus Orange liquid dye with the Blood Orange & Goji Fragrance Oil and the Stained Glass Lemon Lime liquid dye with the Coconut Lime Verbena* Fragrance Oil.
Once all soaps have been made, package in airtight packaging of choice.
Label product accordingly.
To Use: Lather onto wet skin and rinse with warm water.
Ingredient Label:
Sorbitol, Propylene Glycol, Sodium Laureth Sulfate, Stearic Acid, Myristic Acid, Water, Sodium Hydroxide, Sodium Cocoyl Isethionate, Fragrance, Green 8, Orange 4, Yellow 5.