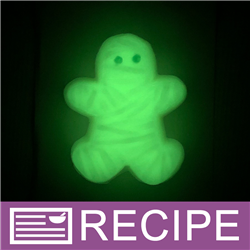 (Enlarge Image)
NOTE: If you are making these products for sale, good manufacturing practices recommend you wear a hairnet, gloves and a mask. We also recommend a clean apron and workspace.
In a small container, melt 1/8 of green color block. Spritz the eye area of each soap cavity with rubbing alcohol. Using a plastic dropper, place one drop of color into the eyes of each mummy. Let harden. Place dropper into a cup of hot water to keep soap from hardening inside.
Place 9.5 oz. of cut up soap into a microwave-safe measuring cup. Heat in microwave until just melted. Remove and stir any pieces that did not melt.
In a plastic beaker, mix 0.30 oz. fragrance with 0.15 oz. vanilla stabilizer. Let sit for two minutes.
When soap has cooled to around 125-128°F, whisk in 1/4 teaspoon of Glow in the Dark Powder* and fragrance mixture. Mix well to incorporate.
Spritz the inside of all three mummy cavities with rubbing alcohol. Starting with the mummy on the bottom, slowly pour the melted soap into each cavity starting down by the feet. When all three are filled, spritz the tops with rubbing alcohol and set aside to harden.
Carefully unmold soap. If necessary, place in freezer for 30 minutes for ease in unmolding. Set soaps aside.
Repeat above steps two times to make remaining six soaps, if desired.
To package, we recommend wrapping in plastic wrap. Place one mummy in a black organza bag and add a cute hang tag for a label. Or, simply add a spooky label to the back of the wrapped soap.
To Use: Lather onto wet hands and rinse with warm water. To recharge, place under light or in front of window for one hour.
*This glow in the dark powder is approved for soap only. Since it is not approved for bath bombs, we do not recommend using this soap in the bath tub.
Ingredient Label:
Sorbitol, Propylene Glycol, Sodium Laureth Sulfate, Stearic Acid, Myristic Acid, Water, Sodium Hydroxide, Lauric Acid, Shea Butter, Titanium Dioxide, Fragrance, Zinc Sulfide, Copper Chloride Doped, Polyester-3, Pigment Green 7.