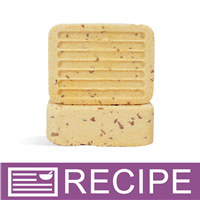 (Enlarge Image)
NOTE:
If you are making these products for sale, good manufacturing practices recommend you wear a hairnet, gloves and a mask. We also recommend a clean apron and workspace.
Mix baking soda, citric acid, arrowroot powder and red salt with a wire whisk or gloved hands. Break up any clumps that may be in the mixture.
Add 0.30 oz. mica powder and mix well.
Drizzle fragrance into bowl and mix well.
Drizzle Shea 50 over mixture. Mix with gloved hands until all ingredients are well incorporated.
Press mixture into each mold cavity, being sure to pack mixture in well.
For best results, let sit in mold for 24 hours before unmolding.
Fill powder spray set with 1 oz. of gold mica powder.
After unmolding, spritz tops lightly with rubbing alcohol and immediately follow with a spray of gold mica powder.
Place fizzies in a cello bag and close with a Handcrafted Gold label. We packaged (3) bath fizzies per bag. There will be one left over which can be added to another batch or used as a sample.
Label product accordingly.
To Use:
Drop in warm bath. Soak in warm water.
Ingredient Label:
Baking Soda, Citric Acid, Sea Salt, Red Clay, Arrowroot Powder, PEG-50 Shea Butter, Fluorphlogopite, Titanium Dioxide, Iron Oxide, Fragrance.