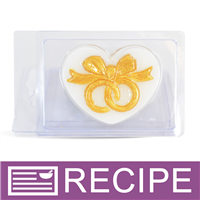 (Enlarge Image)
NOTE: If you are making these products for sale, good manufacturing practices recommend you wear a hairnet, gloves and a mask. We also recommend a clean apron and workspace.
In plastic beaker, add cut up clear soap. Heat in microwave in 15 second increments until completely melted.
Add gold mica powder and mix well.
Spritz a small amount of alcohol into ring/ribbon area of clamshell. Using plastic dropper, pipe gold soap into the ribbon and ring areas of each clamshell. Spritz with rubbing alcohol again.
If soap starts to harden, remelt in microwave for a few seconds. To keep dropper from hardening, empty soap and place in hot water between clamshells. Be sure to completely empty all water before using again.
To large measuring cup, add cut up goat milk soap and heat in microwave for 2-3 minutes or until melted.
Add fragrance oil and stir well.
When soap has cooled to 130ºF, spritz the gold soap with rubbing alcohol and fill each clamshell. Spritz with rubbing alcohol.
Let soap harden completely then place backs on clamshells.
Label accordingly.
To Use: Remove soap from clamshell. Lather onto wet skin. Rinse off.
Ingredient Label:
Sorbitol, Propylene Glycol, Sodium Laureth Sulfate, Stearic Acid, Water, Sodium Hydroxide, Myristic Acid, Lauric Acid, Goat Milk, Sodium Cocoyl Isethionate, Yellow 5, Titanium Dioxide, Fragrance, Fluorphlogopite, Iron Oxide.