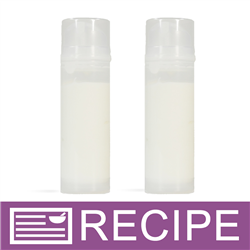 (Enlarge Image)
NOTE: If you are making these products for sale, good manufacturing practices recommend you wear a hairnet, gloves and a mask. We also recommend a clean apron and workspace.
To measuring cup, add lotion base. Heat in microwave for 45 seconds. Remove and stir.
Add Honeyquat and fragrance. Stir well to incorporate.
Fill each bottle to 5 oz. each by weight.
Let product cool completely, then place pumps on bottles.
Label product accordingly.
To Use: Apply to skin as needed.
Ingredient Label:
Water, Glyceryl Stearate, Isopropyl Myristate, Caprylic/Capric Glyceride, Stearic Acid, Stearyl Alcohol, Cetearyl Alcohol, Ceteareth 20, Soybean Oil, Fragrance, Shea Butter, Dimethicone, Sunflower Oil, Caprylyl Glycol, Aloe Barbadensis Leaf Juice, Goat Milk Extract, Hydroxypropyl Trimonium Honey, Triisopropanolamine, Disodium EDTA.