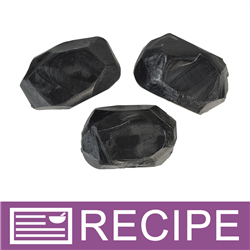 (Enlarge Image)
NOTE: If you are making these products for sale, good manufacturing practices recommend you wear a hairnet, gloves and a mask. We also recommend a clean apron and workspace.
To large microwave-safe measuring cup, add cut up clear soap base. Heat in microwave in 30 second increments until soap has melted.
To plastic beaker, add essential oil and scoops of charcoal and mix well until charcoal is completely blended in.
Add to melted soap and blend well.
Pour soap into cavities of both soap molds and spritz tops with alcohol. Let soap harden. Can be placed in freezer for 30-45 minutes to speed up the process.
Remove soaps from mold. Using a soap cutter, carefully cut edges at an angle on front and back of bars until it resembles a block of coal. Each bar will be different and unique. Shavings can be saved for another project.
Wrap soap in plastic wrap and place one lump of coal into a burlap bag.
Finish with a hang tag if desired.
To Use: Lather onto wet skin and rinse with warm water.
Ingredient Label:
Sorbitol, Coconut Oil, Propylene Glycol, Stearic Acid, Water, Sodium Hydroxide, Glycerin, Activated Carbon, Anise Essential Oil.