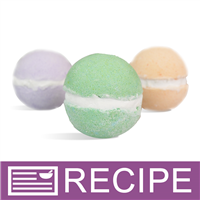 (Enlarge Image)
NOTE: If you are making these products for sale, good manufacturing practices recommend you wear a hairnet, gloves and a mask. We also recommend a clean apron and workspace.
Mix 12 oz. baking soda, 6 oz. citric acid and 6 oz. cornstarch together in a bowl, making sure to break up any clumps and lumps with a whisk or sifter.
Add blue powder color and yellow powder color to make green and mix well.
Melt 0.5 oz. jojoba butter blend, 0.5 oz. cocoa butter and 0.8 oz. grape seed oil together in the microwave for 30 second spurts until completely melted. Set aside and let cool for a few minutes.
In a small container measure out the 0.5 oz. distilled water, 0.5 oz. rubbing alcohol and 0.25 oz. Pistachio & Magnolia Fragrance Oil.
Mix the melted oils/butters with the water/alcohol mixture.
Drizzle all the liquids into the powder mixture in different areas. With gloved hands or a wire whisk, quickly mix the ingredients to incorporate the liquid quickly to stop the fizzing action.
When mixture keeps a shape when squeezed in the palm of your hand, it is ready to mold.
Using a Bath Fizzy Super Scooper or a two-piece bath bomb mold, fill one half of the mold with the mixture. Press firmly and then remove. Place on a baking sheet lined with waxed paper to dry. Continue until all the green bath bomb mixture has been made.
Repeat Steps 2 - 9 to make the purple macarons. Add purple powder and Dahlia & Lychee Fragrance Oil.
Repeat Steps 2 - 9 to make the orange macarons. Add orange powder color and Calla Lily Fragrance Oil and Grapefruit (Pink) Essential Oil.
Let dry 24-48 hours.
Place 16 oz. of Foaming Bath Whip in a large glass bowl. Using a hand mixer or stand mixer, whip on high for 2 minutes.
To microwave-safe measuring cup, add 4 oz. of cut up white MP soap. Heat in microwave on low in 30 second increments just until melted.
Add 2 oz. grape seed oil slowly to the bath whip and mix for one minute.
Add the melted soap to the bath whip and mix for 2 minutes on high.
Fill a piping bag with the whipped filling. Cut about an inch off the end of the bag.
Squeeze some filling onto one half of a bath bomb and place another half on top. Repeat until all macarons are made.
Add the white sugar to a plate. Roll the sides of the filling in sugar.
Package as desired.
Label product accordingly.
To Use: Crumble one bath treat under running water and enjoy.
Ingredient Label:
Baking Soda, Citric Acid, Cornstarch, Grape Seed Oil, Cocoa Butter, Jojoba Oil, Fragrance, Blue 1 Lake, Yellow 5 Lake, Yellow 6 Lake, Fluorphlogopite, Titanium Dioxide, Tin Dioxide, Manganese Violet. FILLING: Sorbitol, Propylene Glycol, Glycerin, Water, Sodium Laureth Sulfate, Sodium Cocoyl Isethionate, Stearic Acid, Lauric Acid, Sodium Hydroxide, Palm Kernel Oil, Sodium Chloride, Fragrance, Titanium Dioxide, Diazolidinyl Urea, Iodopropynyl Butylcarbamate, Sugar.