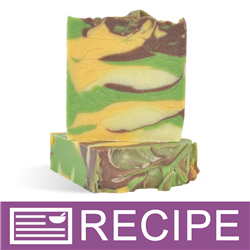 (Enlarge Image)
WARNING: This project and these instructions have been written for someone who has experience making soap and knows the potential dangers due to working with sodium hydroxide. It will not outline all safety methods of working with dangerous chemicals, it is simply a soap recipe for advanced soap makers.
To pitcher, add water and then slowly add lye. Mix well and set aside.
To metal pot, add Coconut Oil, Olive Oil, Sweet Almond, Tamanu Oil, Shea Butter and Castor Oil. Heat on stove top or hot plate until liquid then set aside to cool.
Using three plastic containers (at least 16 oz.), add 1/4 tsp Siesta Sunset to first, add 1/8 tsp. Green Pigment to second and to third add 1/8 tsp. Matte Brown. Add a small amount of melted liquid oils and stir.
When both the lye mixture and the oils are 120°F or below, pour the lye mixture into the oils. Stick blend until you reach a thin trace. Add titanium dioxide and fragrance oil and briefly hand stir. Then stick blend until color is blended.
Divide batter: to Siesta Sunset add 15 oz., to Green Pigment add 15 oz. and to Matte Brown add 8 oz. There should be approximately 15 oz. remaining in the metal pot.
Starting with orange, stick blend until color is well blended. Then, stick blend green and finally brown until colors are well blended. All soap batter should be at medium trace or slightly thicker.
Pour some uncolored batter into the loaf mold. Then, pour each color in layers or drop color in different areas of the mold. There is no precise way of doing this. Continue in this manner until all batter is poured. Gently tap mold on counter to release air bubbles.
Texture top of loaf with spoon once it is thick enough to hold the shape.
Leave mold uncovered and allow soap to set for 24 hours or longer until soap is firm enough to unmold. Unmold and slice. Let soap cure 4-6 weeks.
Package and label accordingly.
To Use: Lather with water onto the skin. Rinse off. Avoid contact with eyes.
Ingredient Label:
Water, Coconut Oil, Olive Oil, Sweet Almond, Sodium Hydroxide, Tamanu Oil, Shea Butter, Fragrance, Castor Oil, Mica, Titanium Dioxide, Tin Oxide, Iron Oxide, Chromium Oxide, Red Iron Oxide, Yellow Iron Oxide, Black Iron Oxide.