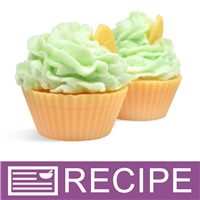 (Enlarge Image)
FOR CUPCAKES:
Lay out 12 silicone cupcake liners on a cookie sheet or if available, place in a regular metal cupcake tin to give the silicone molds more stability when pouring.
Weigh 3 lbs. of Ultra White MP Soap Base. Cut up into medium sized chunks and place into a large glass bowl.
Place bowl in microwave and heat until soap has melted. Start at 1 minute. Remove and then stir. Continue heating at 30 second intervals until all the soap has melted. Stir to make sure all chunks have melted.
Add 10-20 drops of Sunflower Yellow Stained Glass Liquid Dye to melted soap. Stir until the color is completely blended in.
In plastic beaker, add 1.5 oz. of fragrance oil. Pour into melted soap and stir slowly.
Pour soap into all the 12 cupcake liners. Let soap cool until it is solid.
When soap has completely hardened, carefully remove from cupcake molds. Place soap cupcakes on a cookie sheet and set aside.
Re-melt the remaining soap and pour into citrus wax tart molds, fill only half-way.
Place citrus wax mold into freezer for 5 minutes or until soap has solidified.
Unmold. Using a straight soap cutter, slice off the citrus detail.
Repeat steps 9-11 until you have 16 citrus slices.
Re-melt any remaining soap and fill 4 cupcake molds to complete 16 cupcakes
Let soap set up. When soap has completely hardened, carefully remove from cupcake molds.
FOR FROSTING:
In large microwave-safe mixing bowl, add 8 oz. cut up white soap. Heat in microwave until melted.
Add 8 oz. of Foaming Bath Whip to melted soap. Gently stir to mix in.
In a microwave-safe container, add glycerin and myristyl myristate. Heat in microwave just until melted.
Using a hand mixer whip until mixture starts to thicken. Add glycerin mixture while continuing to whip.
Add drops of Forest Green Liquid Dye to desired shade along with 0.5 oz of fragrance oil.
Continue to mix until frosting thickens. If necessary, place in refrigerator for 15 minutes to cool and thicken then whip again.
To a decorator bag or zip close bag, add decorator tip of choice. Cut tip off of end and fill bag with frosting.
Pipe the frosting onto cupcakes. Top with a piece of citrus soap. Continue until all cupcakes are frosted.
Frosting will take about 24 hours to harden up before it is safe to package.
Package in cello bags and tie with ribbon.
Label product accordingly.
To Use: Lather onto wet skin and rinse with warm water.
NOTE:
On 3/28/19, Myristyl Myristate was substituted for Palm Kernel Flakes in frosting recipe.
Ingredient Label:
CUPCAKES: Sorbitol, Propylene Glycol, Sodium Laureth Sulfate, Stearic Acid, Myristic Acid, Water, Sodium Hydroxide, Sodium Cocoyl Isethionate, Titanium Dioxide, Fragrance, Yellow 6. FROSTING: Glycerin, Water, Sodium Cocoyl Isethionate, Sorbitol, Propylene Glycol, Sodium Laureth Sulfate, Disodium Lauryl Sulfosuccinate, Stearic Acid, Myristyl Myristate, Myristic Acid, Sodium Hydroxide, Sodium Chloride, Diazolidinyl Urea, Iodopropynyl Butylcarbamate, Fragrance, Titanium Dioxide, Green 5, Yellow 5.