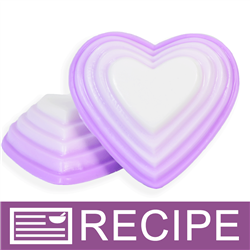 (Enlarge Image)
NOTE: If you are making these products for sale, good manufacturing practices recommend you wear a hairnet, gloves and a mask. We also recommend a clean apron and workspace.
To Mix & Pour Funnel Pitcher or microwave-safe container with spout, add 9.5 oz. cut up white soap base. Heat in microwave in 30 second increments until melted.
To plastic beaker, weigh 0.30 oz. fragrance oil and add to soap. Blend well.
Pour a small amount into the bottom layer of the first heart. Spritz with rubbing alcohol and let harden.
Cut a 0.10 oz. piece off the soap color block. Cut this piece into fourths. Then each piece in half.
Take one of these pieces and add to melted soap. Stir until color has melted. If necessary, place in microwave and heat briefly until color has melted.
When soap in mold has hardened, spritz well with alcohol. Pour colored soap into next heart layer. Spritz again and let harden.
Add another piece of color block to soap and stir until color has completely melted in. If a darker shade is desired, add a little more color.
Again, spritz hardened soap well with alcohol and pour next heart layer.
Continue in this same manner with the final two layers, adding more color to each layer.
Let soap completely harden.
Remove from mold and package as desired.
Repeat above steps to make 3 additional bars.
Label product accordingly.
To Use: Lather onto wet skin and rinse with warm water.
Ingredient Label:
Sorbitol, Coconut Oil, Propylene Glycol, Stearic Acid, Water, Sodium Hydroxide, Glycerin, Titanium Dioxide, Fragrance, Violet 2 EXT, Red 28.