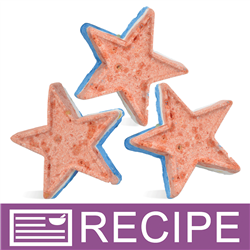 (Enlarge Image)
NOTE:
Safety goggles are required. If you are making these products for sale, good manufacturing practices recommend you wear a hairnet, gloves and a mask. We also recommend a clean apron and workspace.
Using a coffee grinder or food processor, grind epsom salts down to a powder.
To mixing bowl, add baking soda, citric acid and ground epsom salts. Mix well.
In beaker, mix fragrance and stabilizer and set aside for two minutes. Add to powders and mix well.
To three clean beakers, add 0.05 oz. rose water each.
Mix blue color into one of the rose water beakers and red color into another.
Divide dry mixture between three bowls (7 oz. into each bowl).
While hand mixing, add rose water to each. Mix well. Check the consistency of the bath bomb mixture. (It should hold together when squeezed with hand.) If needed, add more rose water.
Pack the red fizzy mixture into the bottom of the mold cavities, filling about 1/3 of the cavity. Next, pack the white into the middle. Finish with the blue on the top. Allow fizzies to harden overnight.
Remove bath bombs from molds.
Package and label as desired.
To Use:
Drop into bath tub and soak.
Ingredient Label:
Baking Soda, Citric Acid, Epsom Salt, Fragrance, Rose Water, Blue 1 Lake, Red 40 Lake.