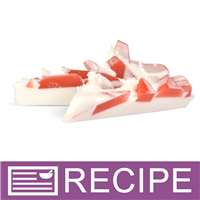 (Enlarge Image)
NOTE: If you are making these products for sale, good manufacturing practices recommend you wear a hairnet, gloves and a mask. We also recommend a clean apron and workspace.
To a microwave-safe measuring cup, add 16 oz. of cut up clear soap base. Add 1/4 of the red soap color bar. Heat in microwave until both have completely melted. Stir well.
Place silicone tray mold on top of cookie sheet. Pour red soap into the 12 Rectangle Tray Silicone Mold. Place in freezer to set up - approximately 20 minutes.
Once soap has hardened, turn over mold and carefully remove soap.
Break soap into 12 rectangles and slice into smaller chunks. Set chunks aside.
To microwave-safe measuring cup, add 24 oz. of cut up white soap. Heat in microwave until soap has completely melted. Stir soap well.
To melted soap, add 1 oz. Peppermint Stick fragrance oil. Stir well.
When the soap has cooled to betweem 125-130°F, pour soap into mold filling it about 3/4 full.
Spritz red soap chunks generously with alcohol. Sprinkle red chunks over the white soap filling entire tray. If soap has started to thicken, push chunks down into white soap but be sure to leave some sticking out of the soap.
Drizzle remaining white soap over red chunks. Do not completely cover, let some chunks stick out of top of soap. Briefly heat soap in microwave if necessary.
Sprinkle glitter over top of soap. Let soap completely harden.
Once soap has set up, turn mold over onto counter top and gently press soap out of mold.
Cut soap on scored lines and turn over. Cut each piece in half diagonally to create the triangle bar pieces.
Package two bark pieces in a cello bag and tie with raffia. Or, package as desired.
Label product accordingly.
To Use: Lather onto wet skin and rinse with warm water.
Ingredient Label:
Propylene Glycol, Sorbitol, Water, Sodium Stearate, Sodium Laureth Sulfate, Sodium Myristate, Sodium Cocoyl Isethionate, Triethanolamine, Glycerin, Fragrance, Titanium Dioxide, Iron Oxides,Polyethylene Terephthalate Copolymer