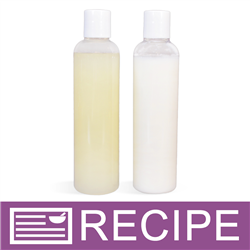 (Enlarge Image)
NOTE: If you are making these products for sale, good manufacturing practices recommend you wear a hairnet, gloves and a mask. We also recommend a clean apron and workspace.
SHAMPOO: To large measuring cup, add 32 oz. shampoo base. Heat in microwave for one minute. Stir.
Add 0.35 oz. Ginseng Extract, 0.10 oz. Shea 50 and 0.30 oz. Bubble Wash Pearlizer. Stir gently.
To beaker, mix 0.50 oz. fragrance and 0.50 oz. Polysorbate 20 then pour into shampoo base. Stir gently.
Carefully fill each bottle to approximately approximately 8.20 oz. by weight. Let cool.
Trim dip tubes to fit bottles and place on the bottles.
Label product accordingly.
To Use: Apply to wet hair and massage to create lather. Rinse with warm water.
CONDITIONER: To microwave-safe measuring cup, add 32 oz. hair conditioner base. Place in microwave and heat for 30 seconds. Stir.
To beaker, add 0.50 oz. Nettle Extract, 0.25 oz. Honeyquat and 0.25 oz. fragrance oil. Slowly pour into conditioner base blending in with a spatula.
Fill each bottle to approximately 8.15 oz. by weight.
Trim dip tubes to fit bottle length and place on bottles.
Label product accordingly.
To Use: Massage conditioner into hair after shampooing. Rinse with warm water.
Ingredient Label:
SHAMPOO: Water, Sodium Lauryl Sulfate, Ammonium Lauryl Sulfate, Cocamidopropyl Betaine, Polyquaternium-7, C12-15 Alkyl Lactate, Sodium Chloride, Polysorbate 20, Sodium Laureth Sulfate, Glycol Distearate, Cocamide MEA, Laureth-10, Fragrance, Propylene Glycol, Diazolidinyl Urea, Iodopropynyl Butylcarbamate, Citric Acid, Glycerin, Ginseng Root Extract, PEG-50 Shea Butter. CONDITIONER: Water, Cetearyl Alcohol, Isopropyl Palmitate, Brassicamidopropyl Dimethylamine, L-Aspartic Acid, Nettle Extract, Honeyquat, Fragrance, Tetrasodium EDTA, Methylisothiazolinone, Methylchloroisothiazolinone.