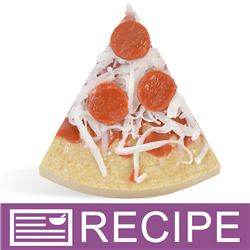 (Enlarge Image)
NOTE: If you are making these products for sale, good manufacturing practices recommend you wear a hairnet, gloves and a mask. We also recommend a clean apron and workspace.
To a microwave-safe measuring cup, add 6 oz. clear soap cut into chunks. Add red color and brown color. Heat in microwave in 30 second increments until melted. Stir.
Add 4.5 ml Tomato Fragrance Oil and 2.5 ml Basil Fragrance Oil and stir in.
Snap round column mold together making sure all sides are securely fastened. Place on jelly roll pan to catch any spills.
Once soap has cooled to 140°F, pour into mold and let harden. Set aside remaining red soap for later.
To microwave-safe measuring cup, add 6 oz. clear soap cut into chunks. Melt in microwave in 30 second increments until melted.
Add 4 scoops of titanium dioxide powder and stir well. If necessary, use wire whisk to completely incorporate powder. Pour into small guest loaf (1502) and let harden.
In microwave-safe measuring cup, add 24 oz. oatmeal soap cut into chunks. Add gingerbread brown color. Add 0.30 oz. Tomato Fragrance Oil and 0.20 oz. Basil Fragrance Oil. Mix well and pour soap into plastic mold. Allow soap to harden.
Remove red soap from column mold. Trim sides of any excess soap. Cut into "pepperoni slices". You will use 18 slices and the rest can be kept for a future project.
Remove white soap from guest mold. Using a cheese grater or salad shooter, grate the "cheese".
Remove oatmeal soap from plastic mold.
Re-melt red soap left over from earlier. Spritz top of oatmeal soap with alcohol, then pour red soap on top keeping inside the edge. Spritz again and sprinkle "cheese" over the top.
In plastic beaker, melt 3 oz. clear soap. Carefully drizzle over cheese to hold in place.
Spritz pepperoni slices and place 3 on each slice. Drizzle more clear soap over this. If necessary, melt more soap to hold everything in place.
Let soap completely harden.
Package and label product accordingly. Soap can be sold as one "pie" or cut into slices. Be sure to add warning to label "DO NOT INGEST".
To Use: Lather onto skin. Rinse off with warm water.
Ingredient Label:
Sorbitol, Sodium Laureth Sulfate, Propylene Glycol, Stearic Acid, Myristic Acid, Water, Sodium Hydroxide, Oatmeal, Sodium Cocoyl Isethionate, Fragrance, Iron Oxides, Titanium Dioxide.