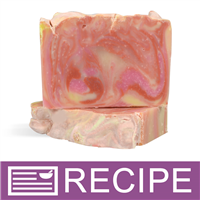 (Enlarge Image)
NOTE: This project and these instructions have been written for someone who has experience making soap and knows the potential dangers due to working with sodium hydroxide. It will not outline all safety methods of working with dangerous chemicals, it is simply a soap recipe for advanced soapmakers.
Prepare the lye solution by weighing the water and lye in two separate containers. Pour the lye into the water, carefully mix in a well-ventilated area and set aside to cool while you prepare your oils.
Measure the oils and butters and melt in the microwave.
Measure 1.75 oz. of Berry Vanilla Fragrance Oil in a small beaker and set aside.
When oils and water/lye solution are both approximately 110° F, start mixing with stick blender.
Add fragrance oil and blend lightly.
Pour approximately 1 cup of soap into 2 containers (1 cup each).
To one container add 1/8 tsp. of Matte Americana Red Oxide.
To both containers, add 1/8 tsp. of Neon Pretty in Pink Powder.
With stick blender, mix both containers well to very light trace.
In mixing bowl of uncolored soap, begin pouring colors in a clockwise pattern. Starting with the pinker shade, add blobs of soap in a circle around the top of the uncolored soap. Follow with the redder color adding this between the pink colors.
When all colored soap has been poured in, run a spatula through the soap in a circular motion to create the swirl.
Pour soap into the loaf mold. It will continue to swirl as it is poured in.
Allow to set up until the top of the soap can be textured.
Let soap set in mold overnight. If it sticks to the sides of the silicone mold, let set for an additional 24 hours before unmolding.
Once unmolded, slice soap and let cure for 4-6 weeks.
Package as desired and label soap accordingly.
To Use: Lather onto wet skin and rinse with warm water. Avoid contact with eyes.
Ingredient Label:
Water, Coconut Oil, Palm Oil, Olive Oil, Apricot Kernel Oil, Sodium Hydroxide, Fragrance, Castor Seed Oil, Cocoa Butter, Aluminum Hydroxide, Red 28, Red 22, Iron Oxides.