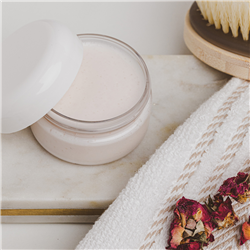 (Enlarge Image)
NOTE: If you are making these products for sale, good manufacturing practices recommend you wear a hairnet, gloves and a mask. We also recommend a clean apron, workspace and sanitized equipment.
Add water to a microwave-safe measuring cup. Heat in microwave for three minutes. Remove, add Rose Water Hydrosol, Poly 80 and set aside.
In a second microwave-safe container, add BTMS-50, Argan and Rose Hip Seed Oil. Place in microwave and heat until wax has completely melted. If the wax begins to harden, place back in microwave and heat until melted.
Pour water into wax/oil mixture and stir. Using a stick blender, begin to blend until mixture starts to thicken. If necessary, place in refrigerator for 30-60 minutes or until product starts to thicken.
Remove from fridge. At below 122*F add preservatives and vitamin E and stick blend until product has thickened up.
Pour lotion into 2 oz. jars, filling to approximately 1.30 ounces by weight. Let lotion cool completely before placing lid on jars.
Label product accordingly.
To Use: Gently apply to face and neck area anytime it is needed.
Ingredient Label:
Water, Rose Water, Argan Oil, Behentrimonium Methosulfate, Cetyl Alcohol, Butylene Glycol, Rose Hip Seed Oil, Polysorbate 80, Lactobacillus, Cocos Nucifera (Coconut) Fruit Extract, Lactobacillus Ferment, Vitamin E.