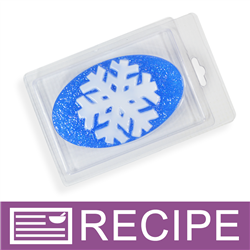 (Enlarge Image)
NOTE: If you are making these products for sale, good manufacturing practices recommend you wear a hairnet, gloves and a mask. We also recommend a clean apron and workspace.
Line up 8 clamshells on a flat surface or cookie sheet.
To a plastic beaker, add 2 oz. of white soap. Heat in microwave for about 10-15 seconds or until completely melted.
Spritz inside of each clamshell with rubbing alcohol. Using a plastic dropper, squeeze soap up into dropper and fill each snowflake with melted soap. This works best when soap is fairly hot so it will be thinner. Pipe in the soap as thick as possible so the background color doesn't show through.
After filling each snowflake with soap, spritz with alcohol to remove any surface bubbles.
Continue until all snowflakes have been filled. If melted soap starts to harden, just pop back in microwave for a few seconds to remelt.
To keep dropper from hardening while filling, fill with hot water. When ready to start filling again, just squeeze out water and refill with melted soap. Be sure all air bubbles have been pushed out.
To a microwave-safe measuring cup, add 32 oz. of cut up clear soap and 0.10 oz. blue color block. Place in microwave and heat for about 2-3 minutes or until completely melted. Stir. More color can be added to achieve a darker shade.
Add 1 oz. fragrance oil and 1 teaspoon of glitter. Gently stir into soap.
Once soap has cooled to 125°F or less, spritz the white snowflakes in molds generously with alcohol. Stir to blend in glitter then carefully pour the blue soap into the clamshells. Spritz tops with alcohol after each pour to remove bubbles.
Set aside to harden. Repeat directions to make remaining 8 clamshells.
Once all soaps have hardened, place backs on clamshells.
Label product accordingly.
To Use: Remove backing from clamshell and gently push to remove soap bar. Lather onto wet skin and rinse with warm water.
*Wholesale Supplies Plus is not affiliated or associated with Yankee Candle.
Ingredient Label:
Sorbitol, Propylene Glycol, Sodium Laureth Sulfate, Stearic Acid, Myristic Acid, Water, Sodium Hydroxide, Sodium Cocoyl Isethionate, Titanium Dioxide, Fragrance, Mica, Ultramarine Blu, Glitter.