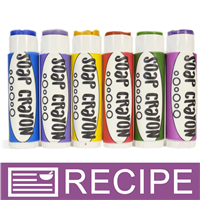 (Enlarge Image)
NOTE: If you are making these products for sale, good manufacturing practices recommend you wear a hairnet, gloves and a mask. We also recommend a clean apron and covered work area.
In plastic beaker, mix 2.5 ml fragrance oil with 1.5 ml stabilizer. Let sit for at least two minutes.
In plastic beaker, add 0.50 oz. glycerin and 1 teaspoon of one color. Stir with mini-mixer to incorporate dry powder into liquid.
To mix & pour funnel pitcher, add 4.5 oz. cut up clear soap. Heat in microwave until melted.
Add color mixture and fragrance mixture to melted soap and stir well.
Pour into six round lotion tubes, filling to the top. Set aside to harden.
Repeat steps 1-5 with other colors.
Place caps onto tubes. Place one of each color in muslin bag.
Label accordingly.
To Use: Use to draw pictures on bathtub tiles. Crayons are heavily colored with oxide pigment powders. You may need a little extra elbow grease to scrub off walls.
Ingredient Label:
Sorbitol, Propylene Glycol, Sodium Laureth Sulfate, Stearic Acid, Myristic Acid, Water, Sodium Hydroxide, Sodium Cocoyl Isethionate, Glycerin, Fragrance, Iron Oxides, Chromium Oxide, Ultramarines.