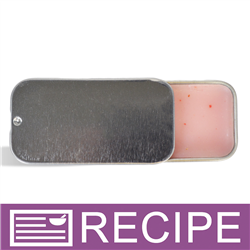 (Enlarge Image)
NOTE: If you are making these products for sale, good manufacturing practices recommend you wear
a hairnet, gloves and a mask. We also recommend a clean apron and a covered work area.
In funnel pitcher, add lip balm base for sticks and pots. Heat in microwave until completely melted.
Add strawberry powder and mix with wire whisk until completely blended in.
Add flavor oil and stir.
Fill each tin to 0.25 oz. each, stirring before pouring each tin. Let lip balm completely harden.
Place lids on tins.
Label product accordingly.
To Use: Apply to lips as needed.
Ingredient Label:
Castor Oil, Olive Oil, Beeswax, Carnauba Wax, Soybean Oil, Candelilla Wax, Strawberry Powder, Silicon Dioxide, Flavor Fragrance.